5 Legitimate Ways To Earn Money From Home
Do you want to earn money from home?
I'm pretty sure the answer is yes.
The thing is, for many people, their full-time job (or jobs, with this current market we have) usually acts as their only source of income. In fact, for years, my parents only relied on the income from their day jobs to afford our family's bills and daily needs. Fortunately, they realized that doing that would mean they'd have to continue working until they get old enough to retire.
That shouldn't be the case. Many financial experts suggest creating multiple streams of income, especially that of the passive variety, in order to supplement one's full-time day job.
But then you might think, where in the world am I going to get the time to do that? Fret not, this blog post is here to the rescue!
Earn Money From Home
This blog post covers some of the most common, but most lucrative, ways that you can earn money from home. I've separated them into different categories, for the sake of organization. Many of them involve working online, whether for yourself or for other people. Of course, there are plenty of other ways to earn extra cash, but these methods I've listed below are some of the most reliable and easiest ways, at least in my opinion and based on my personal experiences.
Without further ado, here are five legitimate ways that you can earn money from the comforts of your own room. Yes, that's right. Listed in this blog post are five real ways that you can easily earn money from home, even if you're just in your pajamas!
[Warning: Super long blog post. Get ready with your cup of coffee! Also, this post may contain some affiliate links, at no added cost to you.]
Online Surveys
I'm putting this right at the very top since this is probably the most popular "earn money quick" method that a lot of people employ for some extra cash.
And it's for good reason too. Online surveys can pay a good amount of money, and many of them don't take up a lot of time to do. If you're still in high school and have a lot of free time on your hands, you might want to try online surveys out to earn money from home. Some of them only need you to be at least 14 years old to qualify, so they're definitely a good way for high schoolers to earn some extra pocket money. The only problem is that a lot of them are only available for U.S. residents. Nevertheless, you're free to sign up for multiple sites, so the more survey sites you sign up for, the better your chances of getting qualified for something.
I'll list down some of the most popular and best known online surveys that you can earn money from even when you're at home. You obviously won't get rich from this, but if you have nothing better to do with your time anyway, why not try it? Who knows, you might have a little fun with these sites.
If you're interested in signing up for more online surveys for more cash, here's a list of 15 legitimate online survey sites that pay.
Swagbucks is one of the most popular online survey websites out there where you can actually earn money from home. Activities include answering surveys, playing new games, watching videos, completing random tasks, and even just using the Swagbucks toolbar as you go about your daily internet surfing. Some of these tasks only take about 5-10 minutes to complete, which allows members to earn quite a bit of money in just a short period of time. Rewards come in the form of points, which you can redeem for real money through gift cards or PayPal credit. Plus, its minimum age requirement is only 13 years old, so that's definitely good news for you middle schoolers or high schoolers out there, at least if you're from the US.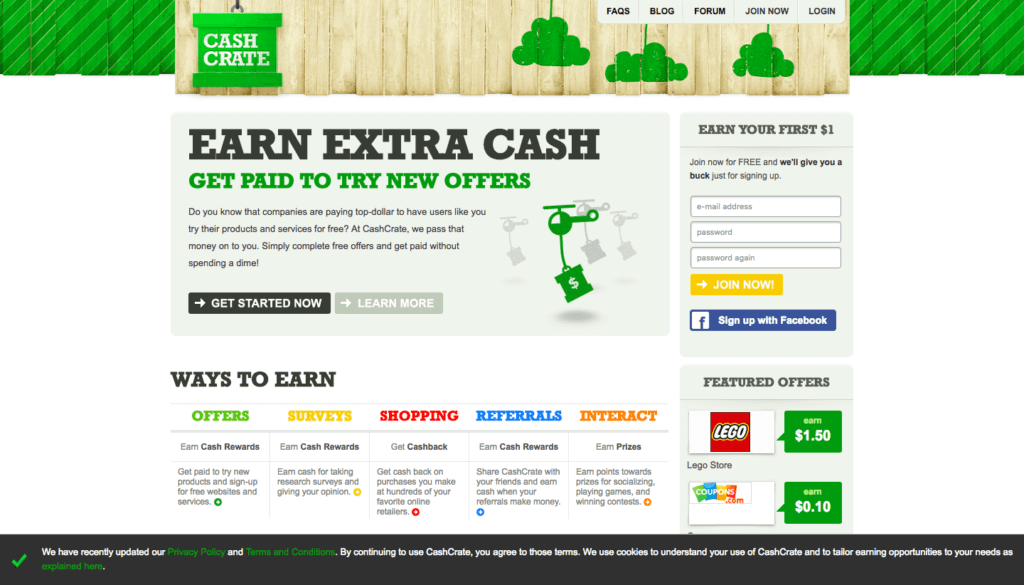 Cashcrate is one of my personal favorites of all the survey sites I've tried. You get a $1 bonus just for signing up and confirming your link. Another $0.50 is given by completing your profile. The best thing about this is how easy it is to earn money from this. Surveys typically pay from $0.20 to $2.00. Rewards come in the form of cash which you can withdraw to your PayPal account. As for the minimum age requirement, Cashcrate only requires you to at least be 13 years old, and it's open to non-US residents as well.
SurveySavvy is one of the longest standing online survey sites out there, having paid over $12M to its members since 2005. Aside from the online surveys, another way to earn with this site is through its referral program, which works on a two-tier basis. For example, if you sign up using my link, and you refer your friend, you and your friend will be under me. But if that friend refers his own friend, then both your friend and his friend will now be under you. So, if you share your link with all your friends… I'm sure you can see now how you can easily earn money from home with this site. The best part? You can cash out all your earnings through PayPal once you reach… wait for it… $1. Amazing. SurveySavvy's minimum age requirement is only 13 years old, and it's also open to non-US citizens.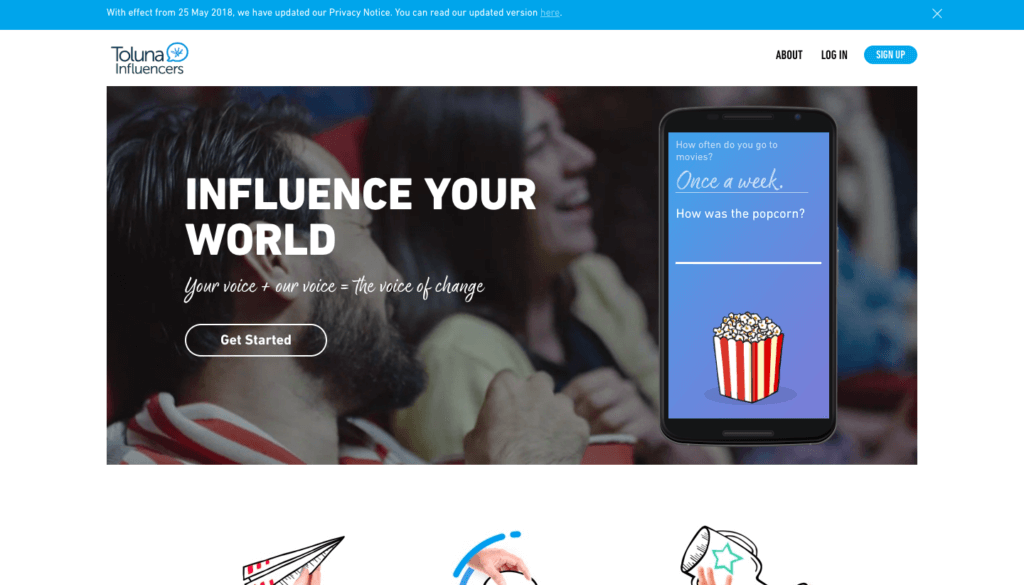 Toluna is another online survey site that legitimately pays money. The good thing about Toluna is that you still get partial points for unsuccessful surveys, even if you get denied 1/3 of the way through. I had one experience where I had already been answering for about 2 minutes when I was denied and sent back to the home screen. I already got sad thinking it was a waste but then I saw that my points had increased by a little amount. Nice! The minimum age requirement for Toluna is only 13 years old, and it's even open to non-US residents. Try it out if you want an easy way to earn money from home.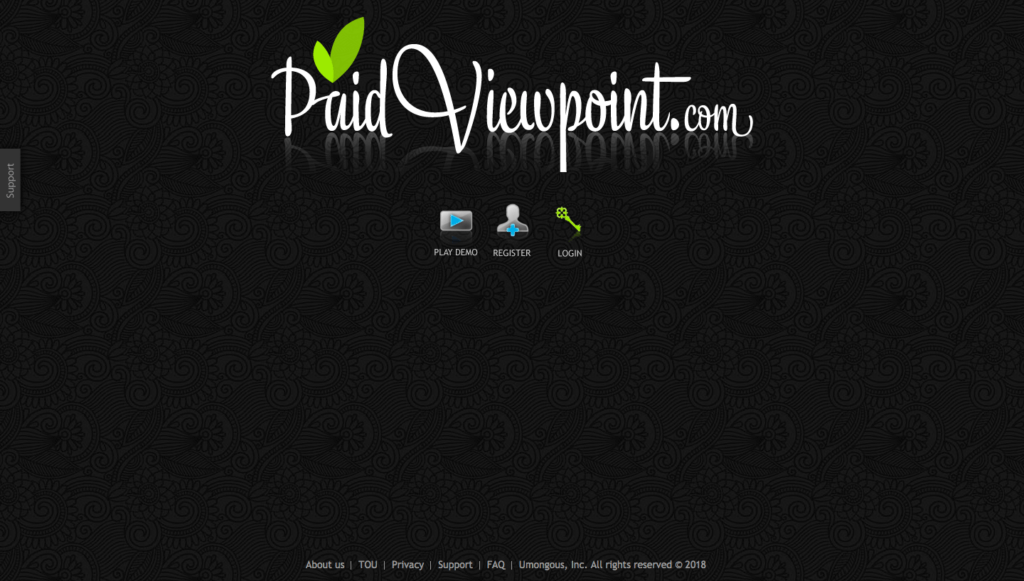 Paid Viewpoint looked pretty shady when I first checked it out, to be honest. Luckily, it turned out to be a legit online survey site that has been paying money to its members for quite some time now. You get around $1.00 just by filling out your profile. Minimum payout is at $15 straight to your PayPal account, while the minimum age requirement is 15 years old. Like the other three items on this list, Paid Viewpoint is also available to non-US citizens. Good news for all you international readers out there.
Freelance Jobs
I've been doing freelance work the whole time I was in college, and it definitely helped me pay off a lot of bills. It also managed to supplement the allowance that I got from my parents, which meant that I usually had some cash left over that I would just save. I started trading small amounts of stocks in college too, and all the money I used was gotten from my freelance jobs.
Fiverr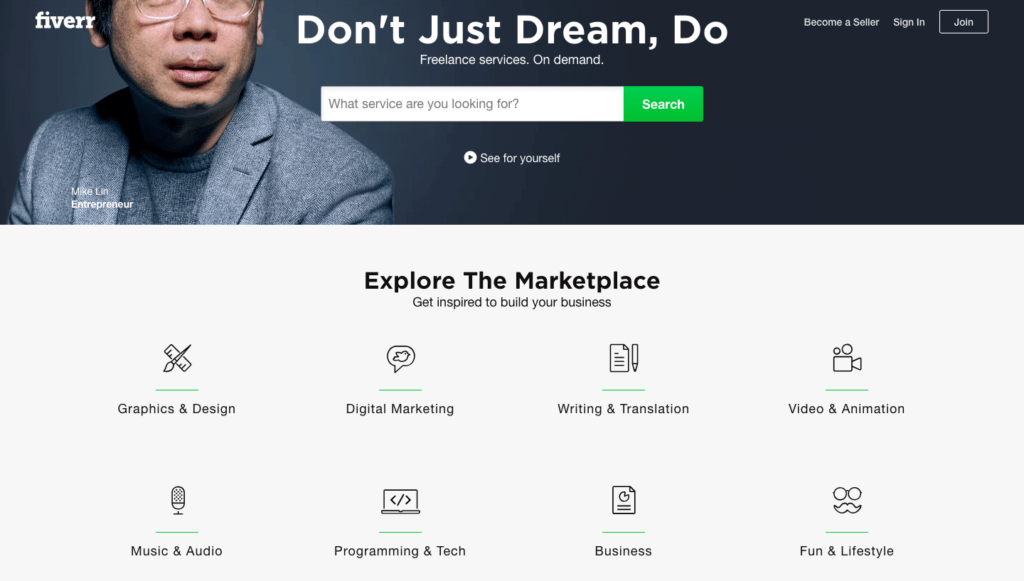 Fiverr is the first freelance website that I tried when I was a freshman in college. College was a whole different world from high school. It was where I truly learned how to budget my money (or else I'd starve). I soon realized that I had more expenses than I thought but I was too ashamed to ask my parents for help, so I decided that I would go look for a part-time job. The thing is, it was hard for me to find a job that would match my schedule and workload as a full-time student. So I took to searching online for a job so I could earn money from home, and that's how I found Fiverr.
Fiverr pays $5 minimum for any kind of job you can think of. And when I say any, I really do mean any. I mean, I once saw a post on Fiverr that offers to write your name in white sand for $5!
You can try out Fiverr here! Winning tip: if you have some wacky ideas, feel free to post an offer for it. Who knows, you can be the newest Fiverr superstar.
Upwork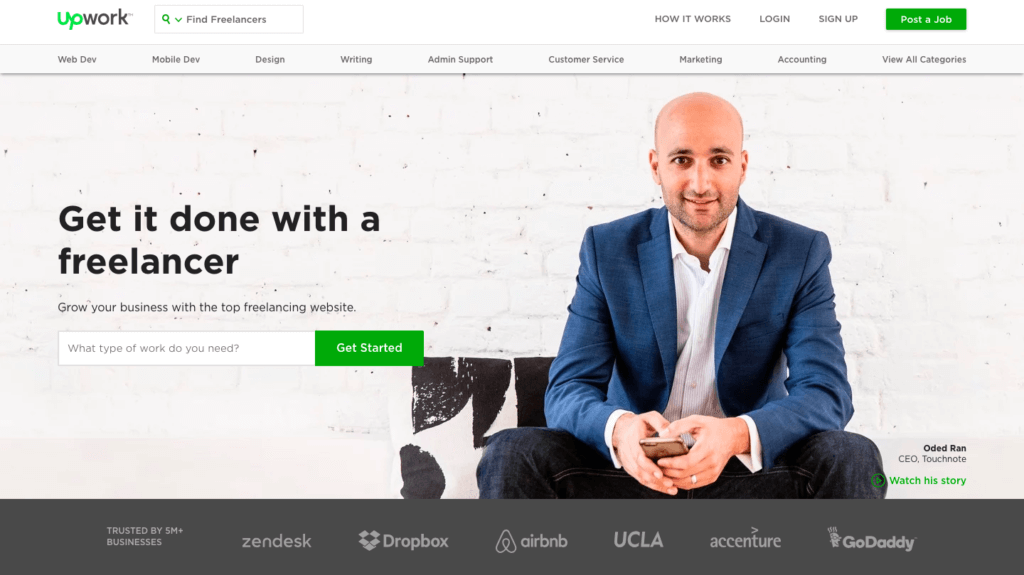 Upwork, previously oDesk, was my next freelancing venture. I think it's completely the opposite of Fiverr in the sense that it looks more like your traditional job posting website.
The only bad thing about Upwork is that it's always a race to the bottom in terms of payment there. Writers have it especially bad. I once saw a post asking for ten 500-word articles… and they were 'willing' to pay $2 per article. WHAT? I repeat, W-H-A-T? $2? That won't even get you a burger. Besides, a burger takes less than 10 minutes to eat. 500 words? About 30 minutes to write. Add good research to that and it can take the average writer (me, at least) roughly an hour to finish a 500-word-article. Only to be paid $2? Ha! No thanks.
As with everything else, occasionally, you can strike on some gold, but that's pretty rare. And while I would love to earn money from home, I don't want to sell my dignity (ever!) for some cash. Nevertheless, I urge you to try it out. Unlike with Fiverr where it's the clients themselves who approach you, at least with Upwork you're the one who gets to pitch a cover letter. That kind of ups the chances, don't you think? Plus, you can take a couple of tests like "U.S. Vocabulary test", "Grammar test", "U.S. Writing test", etc., that further ups your credibility.
You can check out Upwork here. Winning tip: make sure to take as many tests as you can!
Freelancer
Freelancer is the last freelance writing website that I chose… and I honestly think it's the most problematic, for reasons I'll say below. I've read lots of reviews saying that it's their favorite, but honestly, I find it hard to believe that this one is the best when it publicly pitches you against freelancers who are all trying to make their rate the lowest of the bunch. Yes, exactly.
Freelancer is a lot like Upwork, in a sense that it's the clients who post the job and the freelancers who 'bid' to get the job. Here's where the problem kicks in. Freelancer bids are public, and many times, clients specifically say that "the one with the lowest rates will be preferred". So freelancers have no choice but to outbid each other lower and lower… and now you see where the problem is, right?
I once saw this really cool opportunity to write for a local travel blog (and one of my dreams is to have my own travel blog that focuses on budget traveling) but I just couldn't stomach the offers of the other freelancers so I decided not to apply. I don't want to rant on anyone here, but seriously, how can I, or anyone really, compete with a dude from a certain Asian country who's offering to write 1000 words for only $5?
Nevertheless, if you're interested in trying out this platform, then I'm not going to stop you. Just make sure to be picky about the kinds of job you take, alright sweetie? You deserve to get paid fairly for your work. Always keep in mind, you're trying to achieve financial freedom, not running a charity. 😉
You can check out Freelancer here. Winning tip: fill in your profile; it would look better to the clients.
Online Selling
You can also make some money online by doing selling products online. It doesn't matter if you're doing buy-and-sell or if you're making and selling your own products– online selling can get you some nice cash and you don't even have to leave the house every day. Talk about an awesome way to earn money from home!
When I was in college, I personally knew someone who would buy clothes and accessories from a wholesaler and then sell them for over 150% more! She would take orders while we were in class, and apparently, she'd ship out the products once or twice a week.
You know how I said in my personal introduction that I really loved playing "buy-and-sell" when I was a kid? I guess it's no surprise that I tried this out too with my cousin sometime during my sophomore year in college. We did earn some money, however, we had too many problems with logistics (small apartment problems + far away from a delivery service) so we had to stop after just a few months.
Not to mention, I was also quite busy with other writing projects so I decided to focus on them rather than online selling. I'm still open to the idea of having my own buy-and-sell business someday, though, as a way to earn money from home.
If you 1.) are near a delivery service; 2.) have a lot of free time; 3.) enjoy organizing things; 4.) can tolerate unruly customers (I'm not going to deny that it does happen!), then perhaps you should try this out. After all, online selling is one of the easiest ways to earn money nowadays. At least, for those who are hardworking and persistent enough!
Here are some sites where you can sell your merchandise.
Etsy – Etsy is where a lot of home-based online vendors sell their merchandise. I enjoy browsing there sometimes, just to see the latest cute or pretty thing. The kind of products I usually see on Etsy are perfumes, soaps, handwritten stuff, personalized products, house fragrances, that kind of thing. Overall, it's just a really cute website, so please, check it out! If you're a lover of arts and crafts and would like to try your hand at online selling, Etsy is the best way to go.
Craigslist – Craigslist is notorious for its crazy, shady, and sometimes downright suspicious ads. That can be a good thing or a bad thing, depending on how you look at it. In here, you can find an advertisement for absolutely everything, and I mean everything. You can sell your old, unused things here and get some good hard-earned cash back that you can use to further your savings. Just remember, if you're going to sell on Craigslist, try not to meet up with (possibly dangerous) individuals. And if you are, make sure that you're in a well-lit place with lots of people, like a cafe in the middle of downtown or something. Craigslist may be a heaven for online sellers, but you wouldn't want to cut your trip to the pearly gates so fast, right?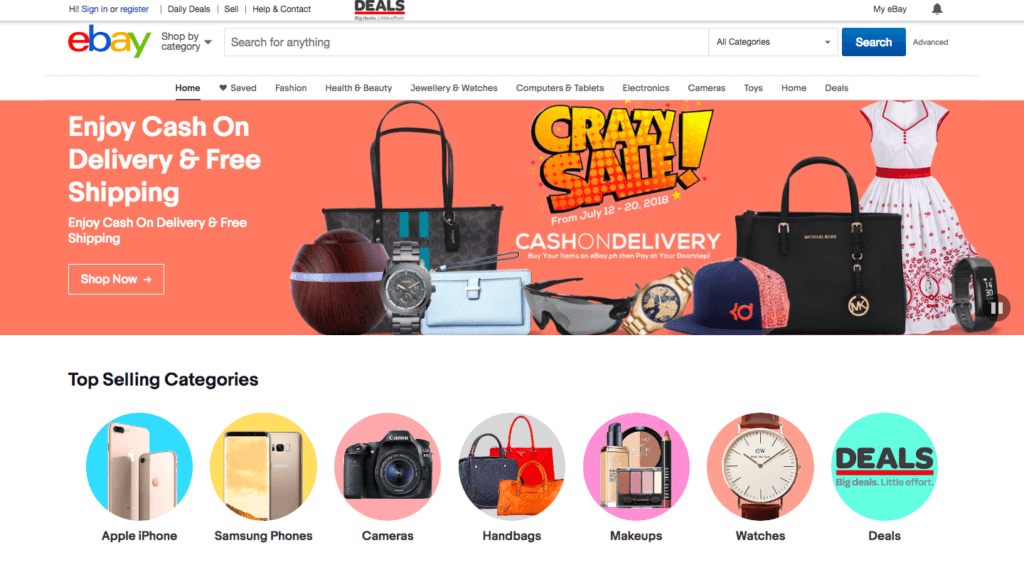 eBay – eBay is a lot like Craiglist, which means you're also free to sell all kinds of (legal) things here. The only downside is that running an eBay shop costs some money to run. The company makes you pay a monthly fee in order to become a seller, and on top of that, it takes a cut of all your earnings, which is around 10% in total. The upside is that it's a much safer platform than the last one, which is basically a "sell at your own risk" platform.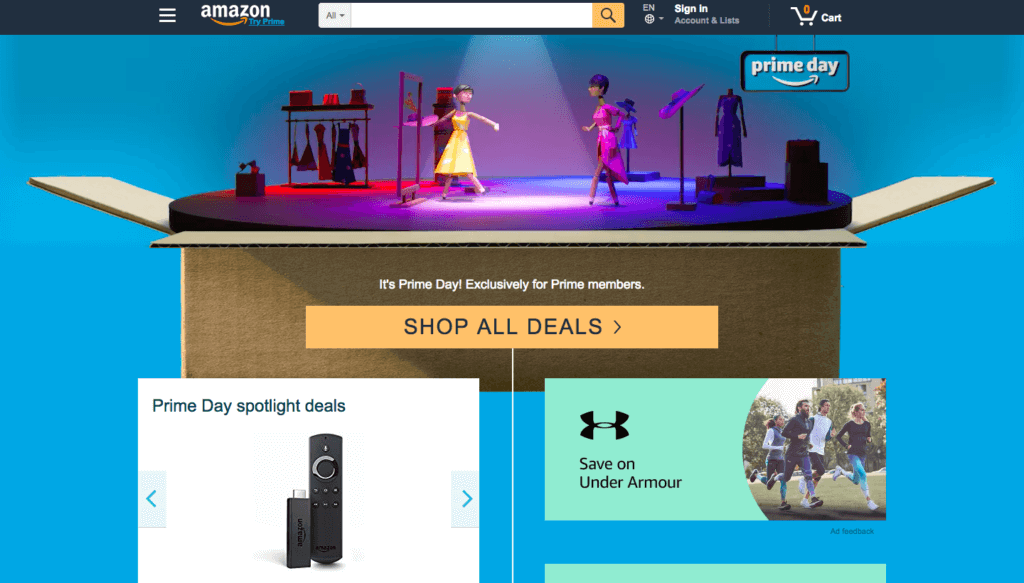 Amazon – Amazon is probably eBay's biggest competitor, but in my opinion, the latter is still the more preferable option, if you're an online seller who wants to earn money from home. For one, Amazon has much higher fees than eBay, which ultimately leads to fewer profits. The only advantage Amazon has is that it's a bigger, more popular, and likely more reputable website, so people might be more likely to buy from Amazon than eBay. I found this really comprehensive comparison on the site Where To Sell Online, so you can check it out if you're interested.
Affiliate Marketing
Affiliate marketing is a way to earn money from home that consists of selling products that you believe in or use yourself.
Of course, there are some issues surrounding this method of earning money, but we're not going to delve on that in this post.
My honest opinion? Affiliate marketing, in itself, isn't bad at all. Like everything else, it's really not the product or service itself that's wrong, but rather the way it's used by some people. For example, there are some people who use affiliate marketing to earn money even though they know that the product they're advertising isn't good anyway.
There are also some people who purposely hide the truth from people by deceiving them or tricking them, just to be able to make a sale. Wow, sounds familiar? Probably, because that's the exact definition of your typical snake oil salesman. So basically, shady affiliate marketing practices are just like that.
If you're interested in doing affiliate marketing, then don't worry, you don't have to sell your soul to the devil or anything like that. Trust me, affiliate marketing is normal in the online world. As long as you don't lie about the product just to make a sale or force people to use your link, then you should be fine. Even I use affiliate links on some of my posts. If my readers click on them and purchase something from that link, I earn a little referral bonus. In return, my readers get a bonus or a discount for their purchase. A win-win, right?
Here are some of the most popular affiliate marketing platforms on the internet right now, which you can join for free.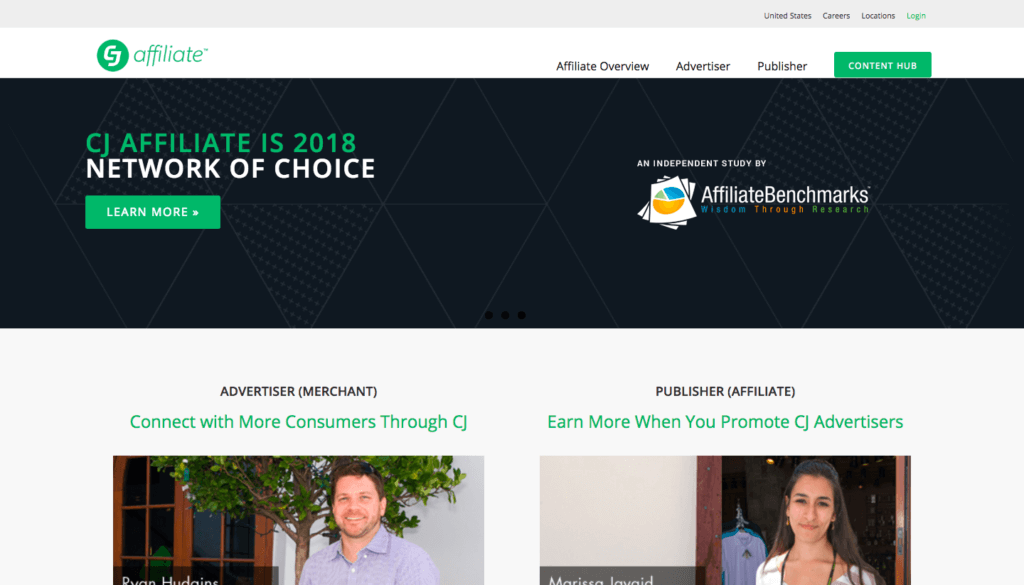 CJ Affiliate by Conversant (formerly Commission Junction) – CJ Affiliate is one of the best platforms for affiliate marketers to earn money from their referrals. It offers pretty much everything from eBooks to hosting packages (if you want to refer GoDaddy hosting, for example, you have to sign up first for CJ). It's also very easy to register and get approved by CJ. After I signed up, within a few minutes I was already allowed to select which products/services I wanted to refer. For some affiliate products though, like GoDaddy, you have to manually get approved by the company first.
Amazon Associates – With the number of products that can be found on the Amazon marketplace, it's no wonder that becoming an Amazon affiliate can be lucrative for some people. You can use referral links for practically every single thing that you own since there's a good chance that it, or something close to it, can be found on Amazon anyway. Amazon also pays quite well, as long as you can regularly get referrals. And that's the only, but possible biggest, downside to this program.
Storytime! A few years ago, I was using Amazon Affiliates to promote some of my favorite video games on one of my blogs. Due to school work, I wasn't able to update my blog much. That led to minimal sales for a couple of months. Guess what? Amazon Affiliates decided to cut their partnership with me, just like that. So, yes, if you're 100% serious about this, then go ahead, but if you're planning to make this something passive that you don't want to check like… ever, well, this probably isn't for you. With Amazon Affiliates, you have to ensure to match their sales quota or else you'd get booted from the program.
Clickbank Affiliates – Clickbank Affiliates is another affiliate marketing program that you should try out for yourself if you want to earn money from home. Like the other two on this list, Clickbank Affiliates also offer a variety of products, with over 46,000 in total to choose from. The only difference (and perhaps downside) with this one is that it only offers digital products, unlike Amazon for example that sells physical products as well. Another thing that I noticed about Clickbank is that they sell a lot of low-quality products, which means you have to be very selective about the products that you're going to put on your site. Lastly, Clickbank affiliates share their profits with the vendors themselves.
Remember, only refer products that you yourself trust and believe in. We may be on the journey to financial freedom here, but let's not trade our pride and dignity just to make a couple of dollars. You might think that it will be beneficial to you, but a ruined reputation and tarnished credibility simply isn't worth it. Don't forget that old proverb:
The road to hell is paved with good intentions.
Blogging
If you do it right, blogging can be a very lucrative form of business. Don't believe me? Just take a look at some of the income reports from the most prolific bloggers. They're living proof that if you love what you do and you know how to work hard, you can definitely live your life the way you want it and earn money from home!
Over four hundred thousand blogs are created each year, but only a small percentage of them actually earn any money. Why? Because most bloggers give up when the going gets tough, and I'm telling you, it can be very, very tough in the beginning. I myself had (and still have, tbh) to spend long hours tweaking my blog, doing research for my articles, creating images and wallpapers to give my blog more life–it's honestly like taking care of a newborn baby!
But just like nursing a newborn baby, (most of the time, hehe) blogging is definitely worth the trouble. For one, blogging can allow you to unleash your creativity, to share your passion, and to share your knowledge with your audience. Obviously, aside from the possible monetary rewards that you can get from it– such as the ability to earn money from home– blogging can also be a very satisfying activity.
So, how exactly do you start a blog? Even if you're a beginner, I don't suggest going the free route. I blogged on free websites like WordPress.com and Blogger for the greater part of a decade before moving on to shared hosting, and I haven't looked back since. Free blogging services simply aren't worth the trouble, especially considering the fact that you don't completely own your site if you use them.
If money is the only issue, and it's the only thing that's stopping you from using a shared hosting plan, then why not consider something affordable, like Hostgator's $3.95 plan or even iPage's $1.99/month*? For more details about hosting packages, you can check out my quick comparative guide to the most popular and most trusted hosting sites on the internet right now.
Personally, I use Bluehost's shared hosting plan for my website. I can't recommend it enough. Its cheapest plan is at $2.95 per month, which is quite affordable. To top it off, if you sign up using my link, you'll get an even bigger discount (only $2.75/month) PLUS a free domain name
* $1.75/month with my link on a 36-month-term
Final Thoughts
There are honestly dozens of ways to earn money from the comforts of your own home.
But see, the thing is, I can list down all of the ways in one single post, but if you don't work hard and believe in yourself, no amount of tips can help you succeed. earn money from home
So what are you waiting for? Come on, don't be scared. Buckle up for the wild ride. Challenge yourself to sign up for one or two things here and just work hard at it, even when the going gets tough.
After all, only with determination and perseverance will we reach the financial freedom that we've been wishing for our whole lives.
Don't forget to sign up for my weekly newsletter to receive more budgeting tips, saving hacks, money-making opportunities, and motivational quotes! And if you sign up now, you even get a copy of my eBook, "The Dos and Don'ts of Wise Budgeting" for FREE!