The Best Way To Start A Blog Right Now
I've been in love with words for as long as I can remember.
Ever since I was young, I've always enjoyed writing. Writing gives me a kind of peace and joy that I can't find anywhere else. I can seriously just write for hours on end, without caring about what's happening to the world around me.
Being a blogger wasn't really my dream when I was a child. Being a writer was.
But when I discovered blogging, I was mindblown. When I was a child, my idea of getting paid for my writing was to through becoming a published author or a magazine writer. You know, the traditional ways of becoming a writer as a career. But technology has made some serious advancements throughout the years, and for that, I'm really grateful.
Maybe you have the same passion for writing that I have. Or maybe you're just curious about becoming a blogger yourself. Maybe you just want a way to earn money from home. Whatever your reason may be, I'm here to guide you in starting your own blog, right here, right now.
Are you ready? Let's go.
[Warning: Long post; prepare coffee! Also, this post contains affiliate links. Rest assured that all opinions are my own.]
The best way to start a blog
Blogging can be a lot of work, but it's one of the most lucrative and most satisfying 'hobbies' out there.
The thing is, it can rather intimidating to start. After all, there are so many things to consider, so many things to do, so many items to check off on your checklist… oh no, what if it fails? What if all that hard work goes down the drain? What if–?
STOP. Okay, first off, calm down. It's okay, okay? It'll be alright. Don't worry so much. Deep breaths.
Are you calm now? Good!
Starting a blog doesn't have to be scary or intimidating. In fact, you can start a blog right now, with these five very simple steps. Just five steps and you're well on your way to becoming a blogger yourself!
Feeling excited? Without further ado, here's the five-step guide for the best way to start a blog this year!
1. Finding your blog niche
The first and most important thing you should think of before starting your blog is your niche. 
What's a niche? In simple words, a niche is something specific that you're going to focus on in your blog.
For example, since I'm a personal finance enthusiast, my blog niche is focused on everything that has anything to do with personal finance– saving, investing, budgeting, and making money. That includes creating more income streams, like blogging, for example.
You're going to talk about this niche for the rest of your blog's life, so make sure that it's something you're really passionate about!
If you're blogging mainly for money (which I strongly advise against, for many reasons), you might also be interested in knowing which niches are the most profitable right now. Just make sure that you actually like these topics, or you're sure to encounter problems along the way.
2. Choosing a hosting plan
Once you've selected a blog niche, the next step is to choose your paid hosting plan.
Why go paid rather than free? Well, this topic can take up a whole blog post of its own, but for the sake of this guide, here's the verdict in a nutshell.
Going Paid vs. Free
You can monetize your site. Going free is good… if you're doing this purely for passion. If you also want to earn a little (or a lot) on the side though, you're better off with a paid plan, since free plans don't usually allow traditional monetization methods like ads.
You have more themes to choose from. There are lots of free themes available on the net, but did you know that most free blogging platforms (as well as the free version of WordPress) don't allow custom themes? That's right. When you're on a free plan, your choice of themes is usually also limited.
You can add plugins to your site. Plugins are insanely helpful for your website. My own blogs seem to be built on plugins and I honestly don't know what I'll do without them. Free plans don't allow custom plugins, which is another strong reason why you should avail a paid plan.
Paid hosting plans can be categorized into three main types: shared hosting, dedicated hosting, and VPN hosting. The cheapest one is shared hosting and the most expensive one is VPN hosting. Since you're just starting out, a shared plan should be alright for you. Once you grow big and get like hundreds of thousands of visitors per month, that's when you should look at dedicated hosting plans.
Paid hosting plans for your blog
Now, there are a lot of paid hosting plans to choose from. There's GoDaddy, A2 Hosting, Hostgator, etc., and each one has its own strengths and weaknesses. I suggest doing some research before deciding on a hosting plan.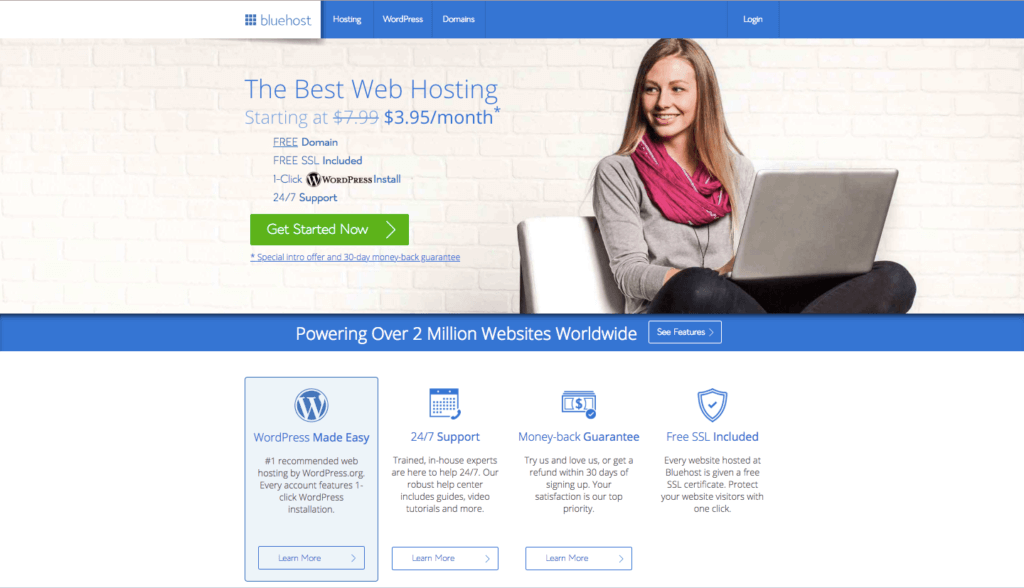 Personally, for The Wise Budget, I use Bluehost's shared hosting plan. Bluehost is one of the biggest and most trusted hosting plans out there.
If you're looking for something cheaper, you can also try iPage's hosting plans. So far, it's the cheapest plan I've ever seen so far. One year's registration (which comes with a free domain name) costs less than $60! That's definitely a steal, and super good if you're just trying to get your feet wet with blogging.
For this guide though, we'll assume that you're using Bluehost, since that's what I'm using for this site as well.
Starting a blog with Bluehost
Starting a blog with Bluehost is extremely easy. You literally just have to follow all the steps on their website, and that's it. Plus, their customer support is very approachable, so if you encounter any problems along the way, don't be scared to message them! They're really helpful and nice, and this is coming from experience.
Picking out which plan
There are a couple of plans available on Bluehost. What you'll choose depends on what you need and what you're looking for.
The Basic plan allows just one website, but this is what I recommend if you're only just starting out. It's also the cheapest plan out of the three. The Plus plan allows multiple websites, so if you're planning to start another blog with a different niche in the future, feel free to pick this one.  The only difference between that and the Prime plan is the marketing offers, so let's leave the Prime plan alone for now.
Choosing a domain name
Next, choose a domain name. Your domain name is the address that your readers will enter into their search bar in order to visit your blog. It's your blog's main identity, apart from the blog title itself (though blog titles can also be the domain name, just like mine!)
This is why it's very important to have a domain name that satisfies the following conditions:
reflects your niche

If you're starting a travel blog, maybe going with "StrongGymDay" isn't such a good idea. At the same time, you also don't want something too vague, like "WorldBeauty". Try to choose something that reflects your niche. For example, if you're starting a travel blog focused on budget traveling (one of my dreams!) the name "TheBudgetWanderer" might be fitting.

short and sweet

Don't choose something that would be too hard to remember for any potential readers. This is also another reason why going for a self-hosted site is better than a free plan. Imagine having a name like "CatsAreTheBestAnimalsOnEarth.blogspot.com". Sure, maybe it does reflect your niche. But it's way too long and it's probably better to shorten it to "BestCatsEarth.com".

unique to you

Lastly, choose a domain name that's unique to you. The thing about domain names is, it considers the .com/org/net as part of the domain name. Sometimes, a .com may be taken, but a .org is not. Do not make the mistake of picking this name. Even if you think "BeautyBabe.net" is a good name, if there's already a "BeautyBabe.com", just pick a different name. You wouldn't want to confuse your readers. Plus, it's much better for your branding too if you can select something unique.
Selecting the terms
Once you've picked out a domain name, it's time to fill in your information and then select the terms of your plan. If you sign up now using this link, you'll get a 65% discount on your first purchase on Bluehost, which means you can get plans for as low as $2.65 per month. That's honestly less than a daily cup of coffee, for you coffee chain lovers out there. See, starting your own blog doesn't have to be expensive!
Some web hosting companies offer short monthly terms, but Bluehost requires you to sign up for at least 12 months of hosting. If you can, I suggest going for at least 36 months, for maximum savings. Of course, it costs more at first, but you save more in the long run. For example, with the discounted rates, a 12-month-plan costs $59.40, but a 36-month-plan costs $95.40.
3. Choosing a blogging platform
Just like hosting plans, there are also a dozen other blogging platforms out there. You've got WordPress, Blogger, Tumblr, and a whole slew of other platforms out there.
However, for this, I can safely say that there's no blogging platform out there that's better than WordPress. One of my longest-standing blogs is on Blogger, and while it is good, somehow WordPress feels more sleek, modern, and (pardon me, Blogger users) more classy than the former. And this is coming from someone who has been using both platforms for like a decade now.
I also used to have blogs on Tumblr and while connectivity is king in Tumblr (thanks to the easy like and reblog function), it's not really as customizable as either WordPress or Blogger. You're really better off choosing WordPress if you're serious about blogging and if you're serious about making money from your blog.
Plus, starting a blog on WordPress is totally a breeze! It's extremely easy to sign up and create a new, fresh blog. If you signed up using Bluehost, they even offer one-click installation for you!
There are also a gazillion tutorials that can guide you all throughout the installation process, if you encounter any problems. If you want the best way to start a blog, I'm telling you, WordPress is definitely the way to go.
4. Designing your blog
You've signed up for a hosting plan. You've installed WordPress. Now what?
Well, before you get started on writing the next [insert your niche here] masterpiece, you could try setting up your blog first!
Setting up this blog is one of the most rewarding yet most frustrating things I've ever done in my adult life. Prepare to spend hours upon hours customizing every little aspect of your site! But don't worry, it's not because it's required or anything. It's because you're going to have a lot (and I mean a lot) of fun making it yours!
I literally spent dozens of hours just customizing The Wise Budget, not because I had a gun to my head, but because I couldn't help myself from owning it. It's probably going to be the same with you!
Don't get frustrated if things don't go your way. Setting up your first blog is very much like nursing a newborn baby, honestly. Frustrating at times, but very much worth it in the end.
3 steps to design your blog
Select a theme 

There are a million themes out there that's all for your picking. Many websites offer free themes that you can use if you're on a paid plan on WordPress. Even WordPress itself has its own free themes directory, the ThemeLibrary. Some of my favorites include Colorlib (where The Wise Budget's theme is from!), Rara Theme, and Theme Forest. These sites offer both free and premium themes

Prepare a logo and a tagline

Why am I putting this at the 2nd step instead of the first? Well, frankly, it's important to create a logo that matches your website's theme… and creating a logo to match a theme is a lot easier than finding a theme that matches your premade logo. Learn from my mistakes. I created The Wise Budget logo before selecting a theme, so I was practically limited in choosing a theme since I couldn't bear to put to waste the logo that I made. Oh well.

Install plugins

My favorite part of the setting-up process! This blog has like two dozen plugins, to be honest. Like I've already mentioned above, plugins are insanely helpful for your blog. You can use them to further make your website stand out from the crowd and to be uniquely yours!
5. Launching your blog
Finally, you're done! After all those grueling hours customizing and perfecting your site, you're finally done with all the preparations. Whew! Hard, but worth it, huh? Well then, it's time to launch your blog now– oh no, wait. Actually, not yet!
Here are a few more things you should do first before launching your blog:
Prepare at least 2-3 weeks worth of posts beforehand. Launching your blog can be a very busy time, so you might not get the chance to write while promoting your brand. Make sure you already have posts scheduled for the next few weeks!
Create a social media presence. You can already create social media profiles for your blog even before your launch. Head on to Facebook, Twitter, Instagram, and Pinterest to start now! (Oh, and feel free to send me a message– I love making new friends!)
Build a social media following. Make sure to regularly update your social media profiles (I'm talking to you, self!) so that people will know that you're active. Talk to different people. Reply to all comments if you can! Starting a blog is like starting a community too, so cherish everyone and make sure that everyone feels welcome.
Seek out same-niche bloggers. Try to connect with your fellow bloggers, especially with those in the same niche. Right now, I'm not very active on Twitter or Facebook, but I occasionally enjoy replying to other bloggers' tweets and checking out their newest blog posts. I still have so much to learn and reading what others have written always teaches me things and inspires me to do more and create more content.
Continuously market and promote yourself. Before, during, and even after your launch, you should never stop promoting your blog and your brand! Blogging may be passive income for some, but for many people who are just starting out, it's a lot of work. Put in enough work, though, and it's sure to become worth it in the end.
Enjoy your new blog!
And that's it! You're now all set to unleash your creativity and knowledge to the world.
I like to think of my blogging progress as an adventure. Actually, it really is an adventure, and every niche is like a treasure trove full of glorious new gems worth discovering. How exciting, going on a blogging journey. Looks like we'll be taking it on together now!
Always remember, blogging may be profitable (yes, you can make money through blogging), but you should never do it for the sake of making money. Blogging is first and foremost a passion project which just happens to be profitable. Like everything else, if you don't have enough passion for what you're doing, you won't get far in this niche. So love blogging, and blogging will certainly love you back. ♡♡♡
I hope this guide was helpful to you! I also hope that you use this guide to create your own blog (through Bluehost and WordPress, hopefully). If you did, feel share your new blog down below. Let's help each other on this journey!
For questions, comments, and concerns, feel free to send me a message at hello@thewisebudget.com! You can also follow this blog and get a free eBook on learning how to budget wisely. Happy blogging!